Thursday, Oct. 10, 2019
---
---
---
Information for arrival
UNLOADING STUDENTS: To unload students, each bus will need to drop off students in front of the Weisman Art Museum on East River Road. The address is roughly 304 East River Road, Minneapolis, MN 55455: School Bus Stop for Coffman
PARKING: School-bus parking on campus is only available on Sixth Street SE between 23rd and 25th Avenue: School Bus Parking at UMN.
Please note:
Buses are not permitted in any garages or on Delaware Street. The options for dropping off and parking buses are only the options listed above. Buses cannot park in front of Coffman, neither to unload nor to park as there is no outlet and there is no way for a bus to turn around without driving backwards a few hundred yards.
---
---
Journalism training for the year ahead
The Minnesota High School Press Convention's Fall Convention is Thursday, Oct. 10 — and it's a great opportunity for student journalists and advisers to prepare for the year ahead.
Dozens of learning sessions. Critiques. One-on-one networking. A Best of Show competition with six categories. We make the most of a half-day convention at the Coffman Memorial Union, in the heart of the University of Minnesota's main campus. It's a short walk from the East Bank light-rail stop on the Green Line.
This year's keynote speaker is a global expert on storytelling. Sara Quinn has joined the university's Hubbard School of Journalism and Mass Communications, and she brings decades of experience working with journalists at all levels, from beginners through veteran journalists. Sara teaches workshops on journalistic storytelling around the world. She'll make this MHSPA Fall Convention even more educational.
Registration is only $23 per person before our Sept. 25 early-bird deadline.
---
ENTER THE BEST OF SHOW COMPETITION
When you register for the conference, sign up to enter the Best of Show competition. We offer six categories —
Broadcast
Feature Magazine
Literary Magazine
Newspaper
Yearbook
Website
Entries are $10, paid through online registration. Remember to bring a copy of your entry to submit for the judging.
---
KEYNOTE SPEAKER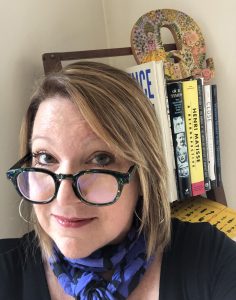 A media design consultant and researcher, Sara Quinn is a senior fellow at the Hubbard School of Journalism and Mass Communications, at the University of Minnesota.
Former president of the Society for News Design, Quinn taught visual journalism at The Poynter Institute for more than a decade. Her eye-tracking research helps journalists determine the best forms for storytelling across all platforms. 
Sara teaches workshops around the globe. She has a bachelor's degree from Wichita State University (Kan.) and a master's in illustration from Syracuse University (N.Y.). Follow her on Instagram @saradq.
---
REGISTRATION
Registration Fees
Early-bird
(on or before Sept. 25)
Standard
(on or after Sept. 26)
Advisers and Students
$23 per person
$28 per person
---
---
SCHEDULE
All sessions take place at Coffman Memorial Union, at the University of Minnesota, Twin Cities.
8-9 a.m.  Convention Check-in and Registration
9:15-9:45 a.m.  Opening Keynote
9:55 a.m.-12:15 p.m.  Breakout Sessions
11:35 a.m.-12:15 p.m.  Adviser Luncheon
12:30-1 p.m.  Awards Ceremony
Click here to propose a session.
---
SPONSORSHIPS
More information sponsorships — including exhibits, program space and signage — download our sponsorship document.
If your organization is interested in sponsoring or exhibiting at this year's convention, please contact Ashley Tilley.